Do you want to get an amazing internship placement in Nigeria and don't know what to do?
Unlike jobs, internship placements are quite easier to get because you can walk up to a nearby company and request to work for free plus you won't be in the company for a long time.
If you are looking forward to getting an internship placement, then there is a very high probability that you must have read some blog post that would give you some useful piece of advice like; create an attention getting CV and cover letter, Prepare well for your interview, be confident, be over prepared etc.
As true as these advice are, I think it is quite basic to a 21st century job-seeker. If these information is new to you then maybe you have not started your job search journey, see how you can start here.
Just like jobs, the competition for internship positions is getting even tighter. It may sound quite easy to walk up to a "nobody knows the name" company and request to intern with them; but what about the "big ones", are they not made for people?
The big question here is how do some candidates get these amazing internship placement in Nigeria considering the application pile? What makes them stand out from the crowd?
I asked Interns from top companies in Nigeria how they got their placements? I interviewed interns from SHELL, Chevron, PWC, KPMG and the likes and asked them these questions:
a. How did you get your internship position?  
b. How long did it take you to secure an internship position?
c. How has taking an internship position helped your career?  
d. What search channel do you think is the most reliable when searching for an internship opportunity?  
e. What is your advice to young Nigerians that are searching for jobs?  
See their responses:
Moyinoluwa Alagbe
Medical Administrative Intern, SHELL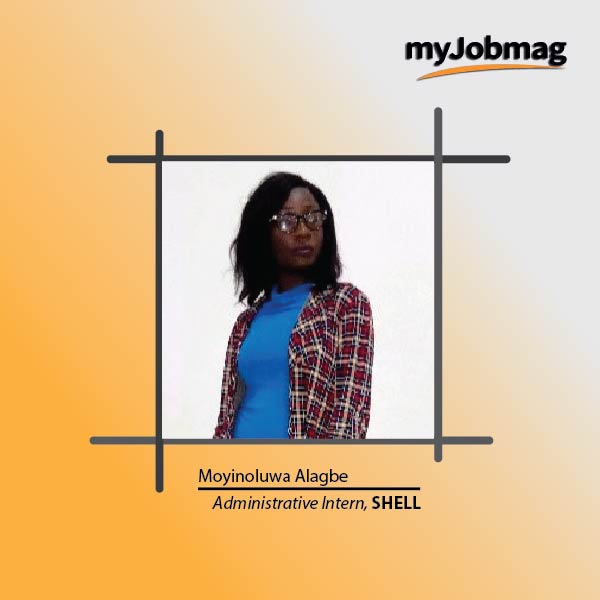 I applied for the internship position sometimes in September last year, the company policy requires that intending interns apply 3-6 months before their start date.

After I got an acknowledgment mail from the company I waited for 5 months before I randomly got a call and I was interviewed on the spot. I got a mail later that day and that was how I was selected for the position.

I feel I can face any situation that comes professionally. My supervisor is a disciplinarian and demands that things be done perfectly. She taught me how to confront professional challenges. Having SHELL on my CV feels like an upgrade too.

Usually I make use of online job boards like; MyJobMag and Google

I have received more rejection letters then I have ever thought I would, but nothing should stop you from achieving your goals. Keep pushing, and keep praying too.
Adeyemi Azeem
Research Intern, SHELL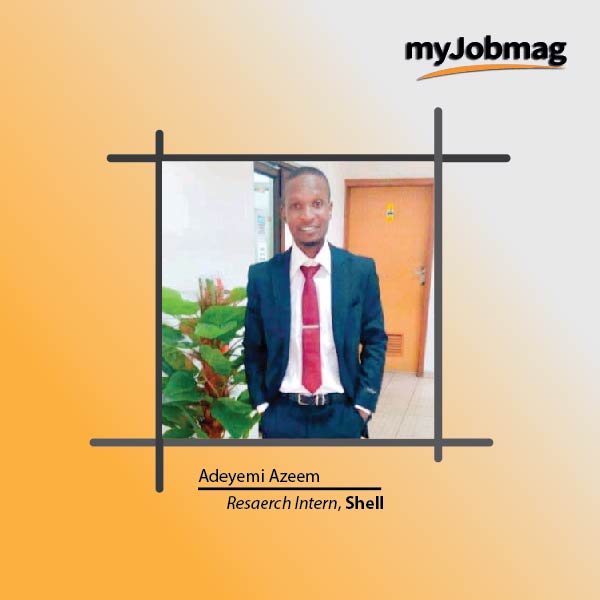 I saw the advert in 2018 and I applied. 

Well, it took me less than 30minutes to prepare my application. Surprisingly to me I was invited for interview and that was how I got the internship position.

Online channel

My little advice is that, persistent and hard work are the key to success which everyone should emulate.
Roland Anikwenze
Intern, Guinness Nigeria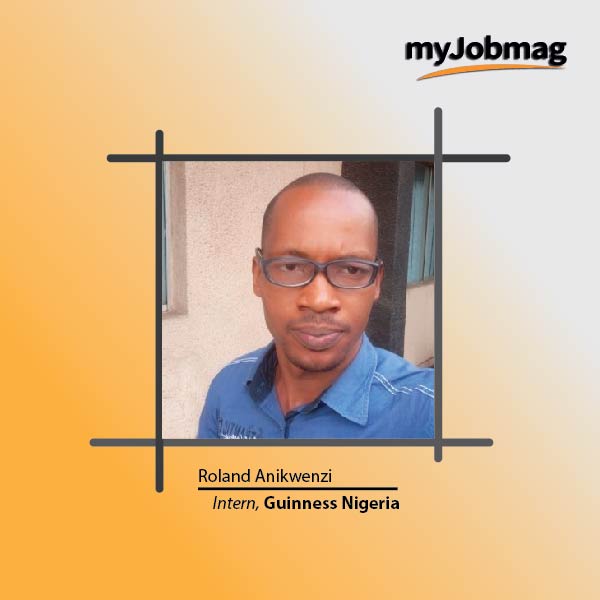 I saw the advert on one of the job website, and then I applied.

Not quite long, immediately after my NYSC. I Applied on 30 April, 2018. Had online assessment and oral interview in May and June respectively. Finally secured the offer in August, which kicked started on the 3rd of September, 2018.

I would say immensely. Earlier before I secured the offer, my career goal was in research space. In the course of the program, I experienced all sorts of stretch which I believe is healthy for my career development. There are a lot to acquire and offer which would yield in other areas I'm prospecting.

Job website and LinkedIn (with defined career path).

Be positive at all times. Apply patience, note your goals, prepare and execute it. Read good books that would keep you motivated, inspired and ideated. Keep your thoughts towards yourself and others pure. Pray always. Remember no two individuals experience the same thing, the same way. Don't leave some else script but yours alone.
Adetola Oluwadamilola
Intern, Guarantee Trust bank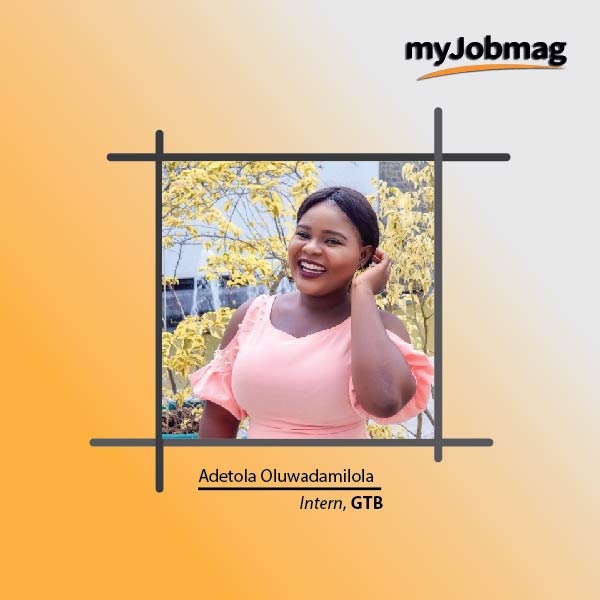 I applied just like every other applicants. I really wanted to have the opportunity to work in the bank, so I went for what I wanted

It was a week.

It has helped me understand the workplace relationship and also I was able to improve on some skills.

To be sincere I tried all, starting from social media, to using Google, talked to friends and all

You should never put your eggs in one basket, and don't rely on anyone. You are your assurance, so only you can get what you want for yourself.
Charles Uwagwu
Intern, Baker Hughes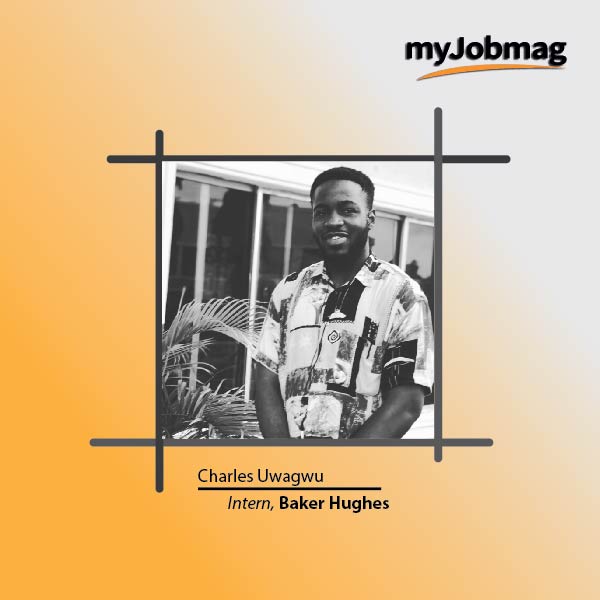 I put in applications as a student, so by the time I came out as a graduate a door was open for me. I planned.

A long time.

It has made things clearer and had given me an understanding of what I really want.

Personal communication with people in similar field as you, and the internet.

Communicate, be committed and be persistent.
Fatungase Olasunkanmi
Engineering Intern, Nestle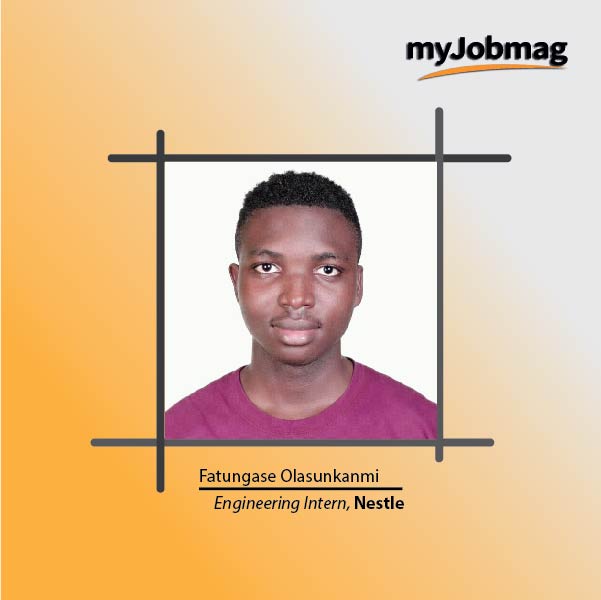 I saw an engineering intern vacancy advert on LinkedIn, I applied with a handwritten letter to Nestlé Nigerian Plc.

I was shortlisted for an exam 3 weeks after, then given the position of an engineering intern a month after.

It helped gain relevant skills and apply theoretical aspects taught, it's easier to understand engineering concepts when you see them in practice. I've learnt AutoCAD, public speaking through my project defense with the management, even project management skills. An internship opportunity shows you what you need to prepare for in your target job market as you also get to interact with staff.

Job boards and LinkedIn are major search channels for me, LinkedIn has been the most reliable, and the frequency of constant email updates are wonderful.

Continuous self-development is important, take online courses, get skills, and network with people, all these could play vital roles in getting your desired job. You've got to stand out from everyone else
Alex Ifechukwu
Legal Intern, CHEVRON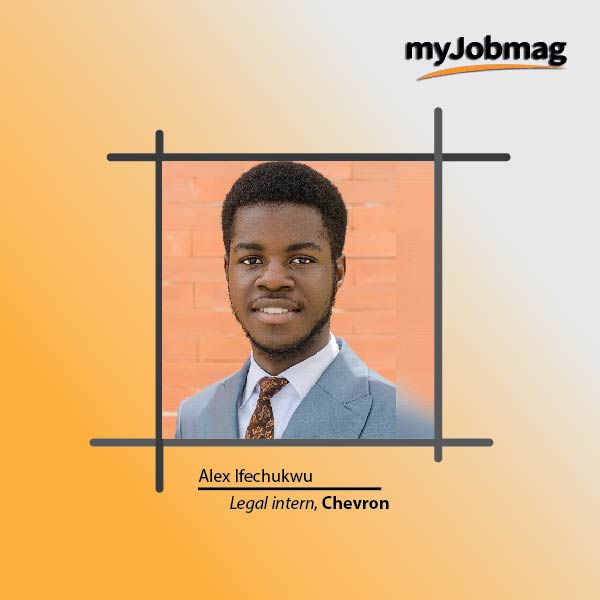 Dedication & Focus is important in getting positive results - I was dedicated through visiting several jobs and internship advert website and I stumbled on the Chevron Internship Advert and decided to give it a try. I applied and got an automated response. Some months later, I was scheduled for a Dragnet Test and was contacted subsequently that I was successful. It followed a medical screening and my resumption came after.

 Usually it takes me 2weeks at least to about 2/3months. Let's just say it varies.

I.

Developing a strategic mind - from my application process. Internship position has helped me understand the forces of demand and supply in the labor market. Knowing when to apply and what period is best. When the demand is lesser and when to take advantage of certain periods.

Gaining practical understanding of my substantive courses taught in school. Sincerely, learning in school is stressful but internship assists me in understanding and learning with ease and fun what I'm taught in school. Additionally, I am exposed to topics I haven't been taught yet such that when I'm taught after the holiday, I understand very easily.

Connections - I've found people who advise me on success in school and where good grades fetched them. I doubt if I can recall all the benefits of the connections - but I am assured that interning again in such firms won't be as stressful as the previous application. I feel I have all the assistance to climb to any stage and the necessary advise to get to any feat. In summary, internships have made me feel that with the people I've come in contact with, if I channel focus where necessary, I can overcome any barrier as regards my career goal

Online jobs boards and opportunity websites.

They should not give up, they should be hopeful. My CV is excellent and has been reviewed by several persons, yet my application was rejected on several occasions. I refused to give up — Persistence is only what can bring results. They should attend seminars and network at events. There is no rule that states that your application must be through email sending, meeting an official at an event can also bring the future to you. Be smart.
Chikaodi Nwigwe
Intern, Schlumberger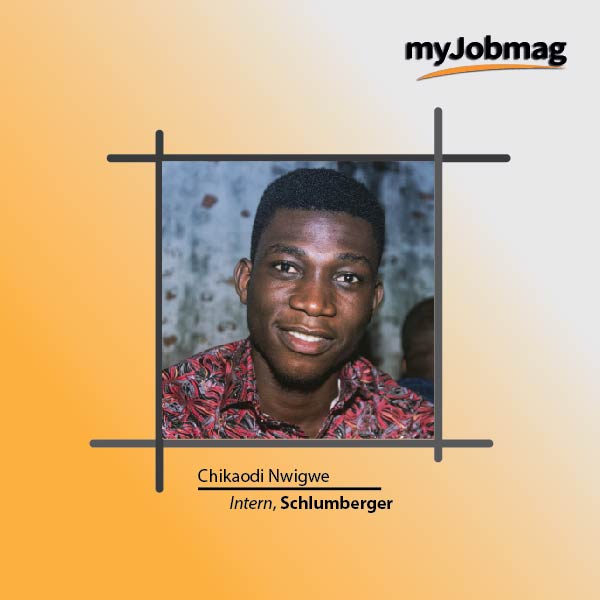 Applied on Schlumberger Career website stating my preferred type of Internship program I wanted to run. Uploading and filling all e-forms on the platform. Got invited for an aptitude test. Then was called to resume as I passed the test.

The whole process of applying and being invited for the aptitude test and then being called to resume took about 4 months.

My internship with Schlumberger has greatly increased my knowledge in my field as a geophysicist and setting me ahead of my peers based on the knowledge of seismic processing in the Industry. It has also motivated me because I got practical tutelage on how diverse the industry is and how working hard and being smart at it can set you up on a high pedestal.

Google, and online job boards.

They should first of all have the ability to be competent in the job they are seeking. Then when applying for jobs they should make their potential employers know what they'll bring to the table.  Also, they should attend seminars , networking meeting etc. as these are social setting where potential employer can also be encountered.
Gerald Nnodum
Intern, Oando Nigeria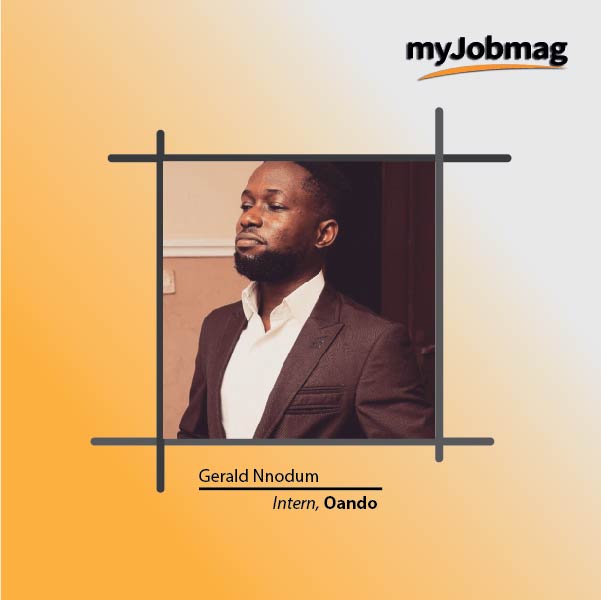 I got my internship positions through a relative who knew someone in those companies.

I can't really say how long because then I was in school. Beginning of the semester, I'd inform my family members and friends I'll need an Internship placement at the end of the semester and I'd submit my CV to them .. I was lucky to have one waiting for me at the end of those semesters.

Positively. I got little experiences even in areas outside my discipline. I got to grow my network of friends as well. There's no negativity when it comes to internships.

You just need to know people to stand a better chance of getting a placement

Use social media (even twitter can get you lucky), "Connections" are really important. Lots of companies would consider interns they can easily access for security reasons.
Tamilore Adelakun
Graduate Intern, PWC
I got my present internship position through a career and employability program organized by Lagos State Government- ReadySetWork. 13 Saturdays which culminated in a career fair in which PwC was one of the key sponsors and firms present at the fair.

I'm not so sure of the time-frame but, I secured an internship position less than a month after I wrote my final exams. Though, of course I had started the application processes while in school. You can go through my profile to see the time frame for my recent internships

Taking an Internship position has helped me in many ways

First, it has changed the way I think and view situations. Firsthand experience of a brainstorming session where people are trying to bring up a solution has taught me how to break down a problem. Also, I have developed my soft skills such as communication both speaking and even sending mails, teamwork.

I identified my weak spots for improvement.

There is no 'one-size-fits-all' approach or best medium in my opinion. LinkedIn, Twitter, Friends, connection, conferences, all of them come together. My advice is to be out there whichever platform, though LinkedIn is becoming a lot more popular of recent because you have a chance to create an impression through constant interaction and intelligent conversations.

My advice is TO BE PURPOSEFUL AND LEAVE YOUR COMFORT ZONE. Students need to know that securing an Internship starts right from 100level and everything contributes to this. Having a good academic standing is important but taking part in activities that show that you have developed not only academically but also as a person. Join that society, join a fellowship, be an active member, volunteer for charity, attend seminars and conferences. DONT CAGE YOURSELF IN A LIBRARY. EXPAND YOUR HORIZON!!!
Toluwalase Okuwoga
Commercial Finance Intern, Nigerian Bottling Company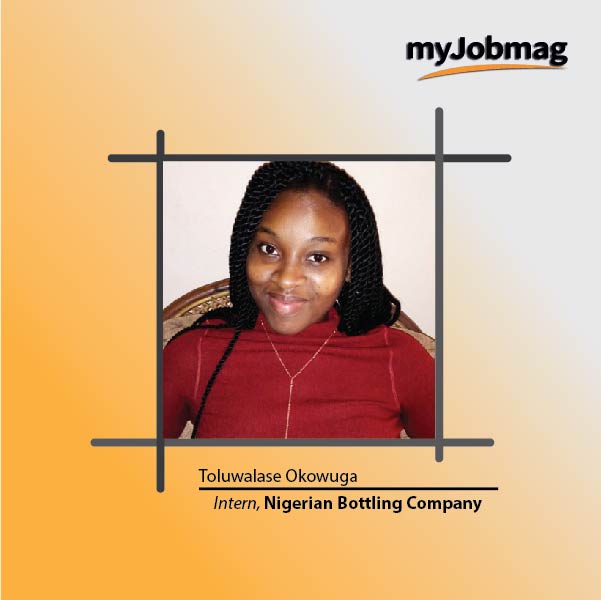 I got the internship position by applying online to the advert. Then I did the online assessments as well as both personal and group interviews. And I was selected

From the date of application, it took about 2-3 weeks

Taking an internship position has helped my career because I've made some important connections that I believe will be essential in helping me secure a good job once I'm done. I have also acquired a lot of on the job trainings that will be useful when I begin full time work

Google jobs, and a lot of other job sites that send emails on available positions. I'm not sure which specific ones

My advice to them is to be persistent in their search, subscribe to all possible job sites for daily alerts, acquire relevant skills while searching, and they should work on themselves generally
Mariam Odoffin
Intern, Procter & Gamble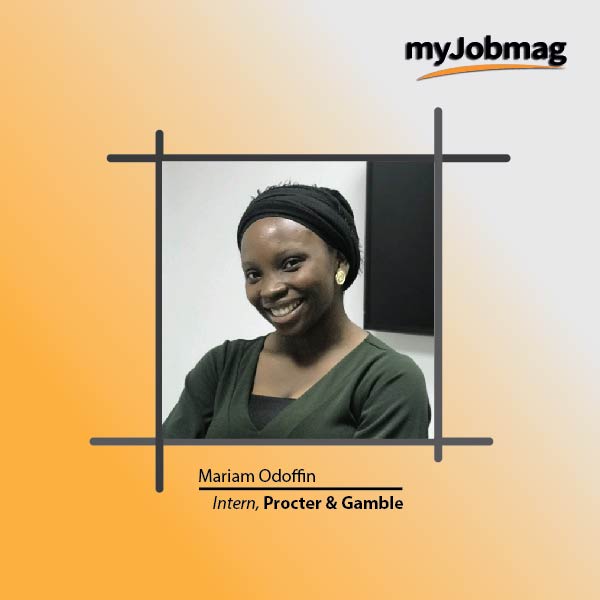 I applied through LinkedIn and went through the various stages.

Well, I had been searching since the first semester of my final year in school, so as soon as I was done with my project late November I was to resume in December.

Very great. It has opened my eyes to a lot of things I didn't see before.

Every channel.

Keep trying don't look down any role, you never know which might help
Bolatito Alli
Communication Intern, Unilever Nigeria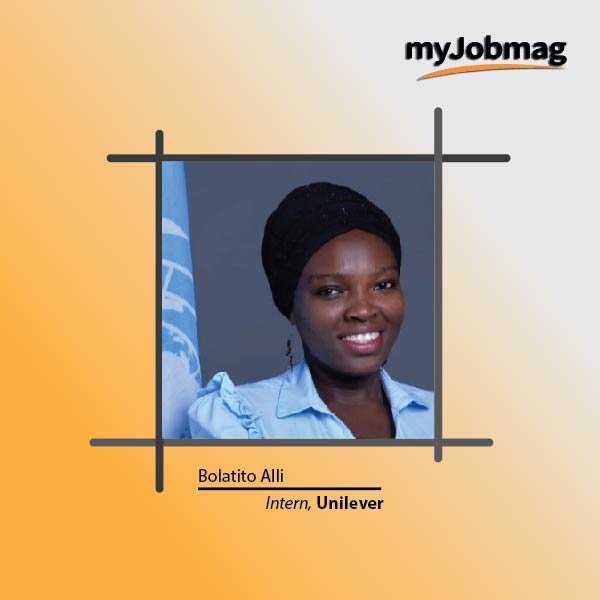 I got my internship position through a WhatsApp broadcast on one of my school groups.

Getting the position was not so strenuous for me as at then. I was in my finals when I applied and the recruitment process took about 3 weeks.

Taking the internship position has helped me put theory into practice. It was my first exposure to the corporate world, which was very well needed. To me internships help young graduates discover themselves and carve a career path for them.

Job search portals, Friends, Google search, LinkedIn, amongst others.

Job search is not easy but we must never give up. Perseverance and honest self-evaluation is important to move forward. Whenever you get rejection mails, do not duel on it, see at as an opportunity to do better in the next interview meeting. And never forget to pray as well. The God factor is key.
Olufunmilayo Demehin
Intern, Procter & Gamble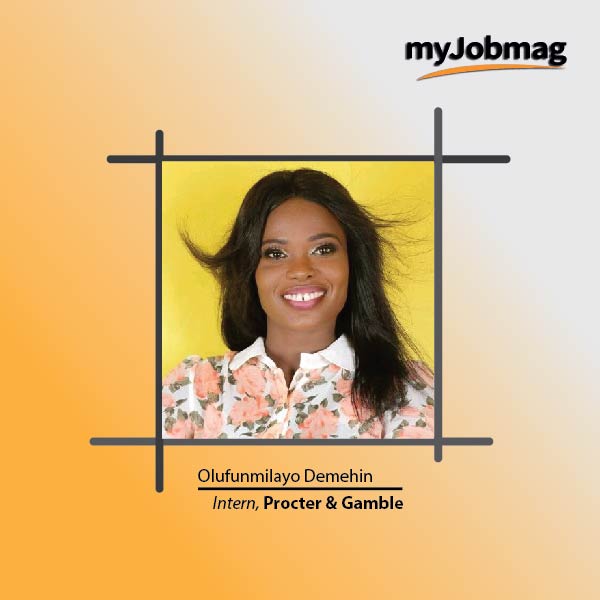 I got my internship through a Lagos State government initiative called ReadySetWork (RSW) and I was lucky to be among those selected to intern with one of their sponsor PwC

I got my internship immediately after my final year exam

As an Accounting Graduate, working with PwC has shaped my Career better.

Newspaper and BC and other online platforms.

There are jobs, make yourself employable and build yourself more to have edge over others, the period you are waiting to get a job, learn some soft skills that will help and boost your CV,  and always put your God first.
Kindson Munonye
Intern, Exxon Mobil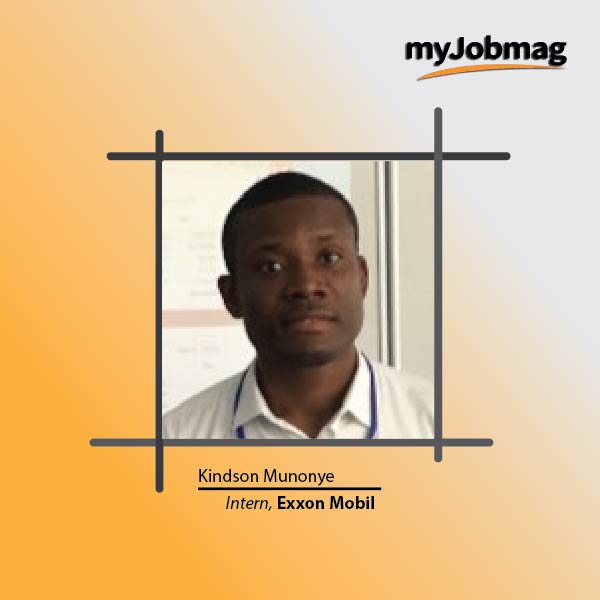 First I needed to do an internship as part of my studies in computer science. Next I researched on companies/industries that offer internship positions. Then I prepared create my CV and a cover letter. Finally, I had to apply for the positions I found. 

 I'll say over a period of 5 months. During this time, I continually sent in several internship applications to the companies. After securing the internship, there was a one-month period of verification of documents and medicals.

Taking an internship position has helped my career a great deal because I could actually apply the theoretical knowledge from the classroom to real-world scenarios. Added to that, I was involved in company-wide enterprise projects just like other professionals in the field. Moreover, I was able to connect to with industry-experts who have several years of experience in my field. All these gave me the motivation to work harder both in my research and in my field of study.

I do think it all depends on how keen you are in getting an internship placement. So it's necessary to explore all available channels. That being said, I would recommend using local websites that advertise job openings followed by an application on the websites (career section) of the particular target companies. Most effective is using personal referral if you have any available to you. These maybe friends or acquaintances who are in positions in these industries.

First, I would like to encourage the Nigerian youths to be proficient in their chosen area of study. This means being able to defend whatever you claim to have learned. Then, I would also advise them to widen their scope of experience to a number of areas. These is not just restricted to IT, it could also be to acquire vocational skill in other technical areas that would enable them be able to render certain paid services to the public while waiting for a bigger opportunity.
Habibat Idris
Intern Geophysicist, SHELL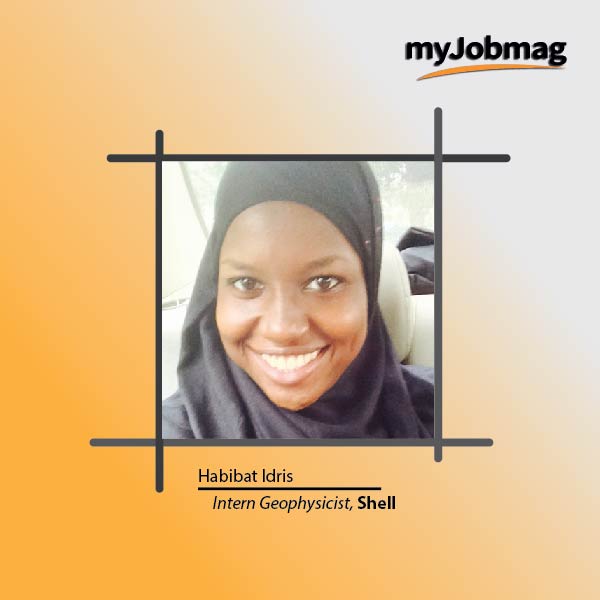 Through a petroleum geoscience school, Danvic Petroleum International, though I'm not sure they still give internship opportunities

I did 6 months training before the internship

Professional/ Technical experience in hydrocarbon exploration

I can't really say

I would advise them to keep trying every opportunity. Have an academic focus and keep all options open. If a job doesn't come along immediately, try accredited graduate training schools, graduate internships, and MSc options. There are several schools in the US who provide free tuition for MSc and PHD degrees in form of Graduate Teaching and Research Assistantships
Precious Usoro
Intern, Baker Hughes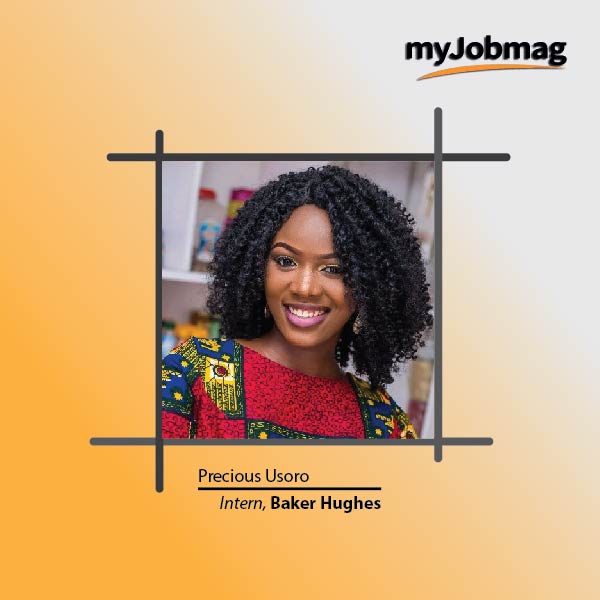 I got my internship through a recommendation from a business leader. Where I did my undergraduate internship. He sent me the link and I applied.

It took a total of 6 to 7months, from application to my start date.

Taking an internship is the way to go, for every Nigerian that desires rapid career growth. The exposure and learning that an internship gives you is essential for the labor market generally.

I think job boards are really good and most companies advertise there.

If you are a Nigerian and you are looking for a job; intern, volunteer, get involved and boost your CV. It's not going to be about the pay at first. But when you have a well of experience to share, it places you on an advantaged position.
Quality Control Intern, Julius Berger
Through a family friend

A few weeks but I sent an application letter 2/3 months earlier

Gained lots of work experience, networked with different professional, got a good exposure of the construction industry, etc.

The internet is one and also knowing an insider.

Never stop learning and improve yourself even in your comfort zone, build your network as a student by talking to people about what you are passionate about (career wise).You never tell who is there to help, attend seminars and workshops, volunteer.
Isodje Dafe
SAP Intern, SHELL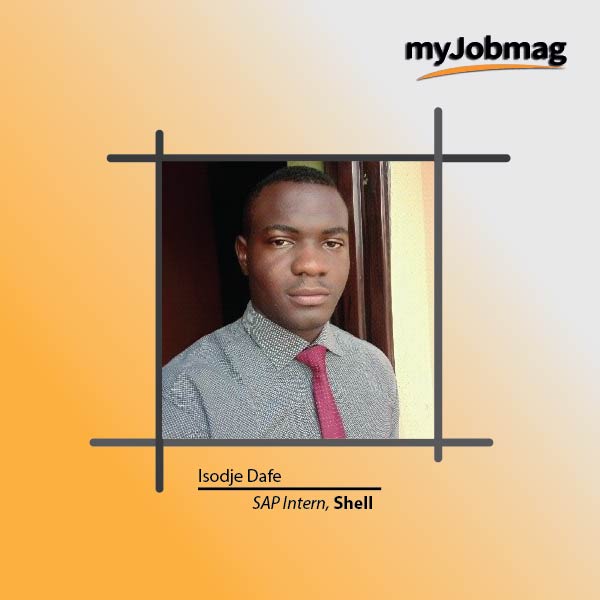 I got my internship through SAP skills for Africa program where we were  trained on SAP latest technology and sent to Shell to gain hands-on experience.

From application to acceptance took approximately 3 months. We had to pass through interviews with SAP and Shell.

It has helped me to understand the business in the Oil and Gas industry and has exposed me to a lot I didn't know about before.

Look for opportunities on Job sites and LinkedIn

Remain hopeful. The job is coming. Manage anywhere for now, it is just a stepping stone to the next
Daniel Babalola
Graduate Intern, PWC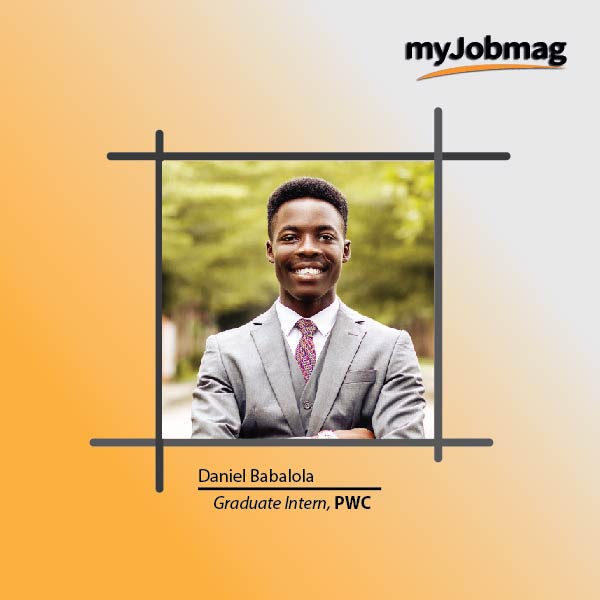 Networking: Pretty much knowing someone who knows someone. After that point, the rest is to be qualified enough for the position. But networking goes a long way.

At this current internship, a little over a month.

Looking at my previous and current internships, there's definitely some advantage. Internships allowed me to gain valuable experience with ease. It's a lot easier to secure an internship than a full time job and so an internship allows you get the much needed experience you need at a very low risk. 

Apart from the direct advertisement of internship opportunities from websites around, I usually advise searching for companies in your interested fields and contacting them directly. Be it via mail, call or even physically going there, it helps. 

I would give two piece of advice; first would be to make sure that they are actually as qualified as they think they are. The job market is becoming increasingly competitive and only the best stand out. So in your chosen field, grow. If possible, pick up an extra skill that could have some form of indirect benefit.  The second would be to make the most of the opportunities that come, many are eager to start from the very best of companies, as full staffs and probably with an official car to match. But really, building a successful career takes time and patience. There's nothing wrong in starting off with an internship, or a modest job with plenty of experience. The hard truth I've come to learn is, at the younger stages of our career, experience really trumps salaries. If you can get both, fine but no amount of money would cover up for inexperience much later in your career.
Michael Edoja Ubituogwale
Intern, Schlumberger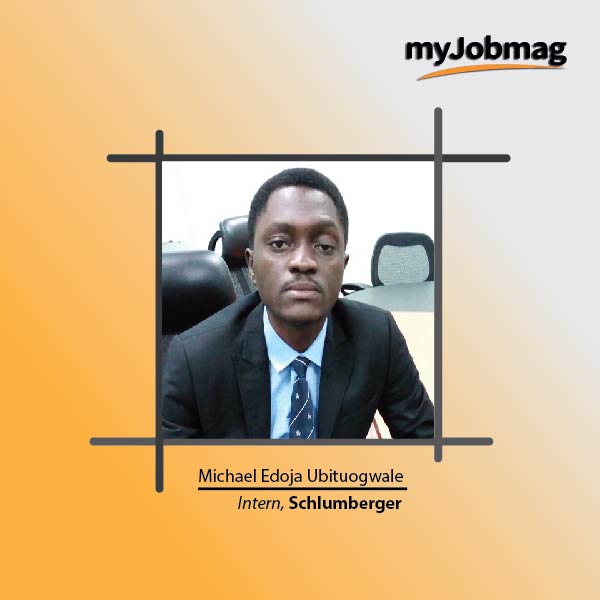 Through my school but still had to compete for it.

About a month after coursework completion

I'm learning quite a lot. I hope this will increase my chances of getting a suitable job.

Right now I feel the surest way is by universities forming relationships with the university relations section of major companies. Assuming of course that one is seeking an internship opportunity with "major" companies.

Keep trying, remain positive, learn from your mistakes and make adjustments when necessary.
Adedire Adesiji
Intern, CHEVRON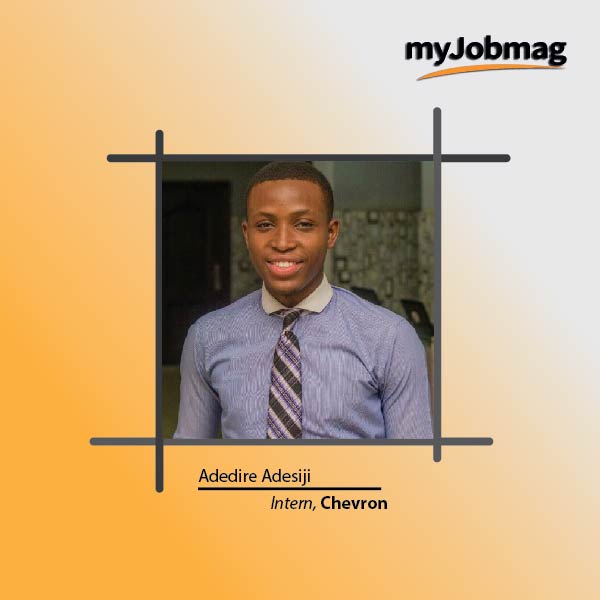 I applied on the company's job openings portal after which I was shortlisted to write an aptitude test. I was called that I was successful in the test and selected for the internship. Went for medical screening and finally offered the position.

The bulk of the process took about 3months.

I have been able to, build relevant relationships, learn how to work and relate in a corporate environment and acquire necessary skills.

Google is the most effective. Other search channels are LinkedIn, career opportunities blogs or websites and also relevant WhatsApp groups.

Basically, use social media as a relationship building tool. Have great community of practice (COP) skills. Have a great CV, apply for desired job openings, prepare smartly for aptitude tests and interviews and keep your Faith high.
Uzo Duru
Intern, SHELL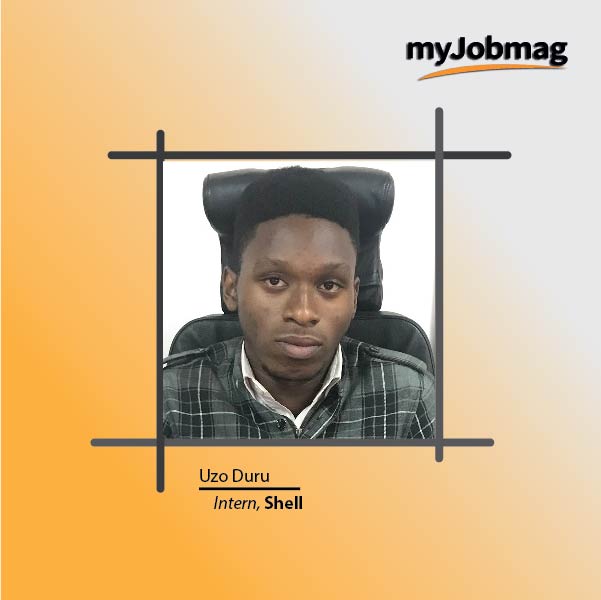 I got my internship by applying online.

It took about 4 months to secure the internship.

My internship experience is probably the sole reason I wish to pursue computer science as a full time career because it showed me that there's a lot more in the industry than what is taught in the classroom.

Probably LinkedIn or other job boards.

Well, I think personal projects help in building one's portfolio, which in the long run exposes one to several opportunities.
Ayeola Olajide
Intern, CHEVRON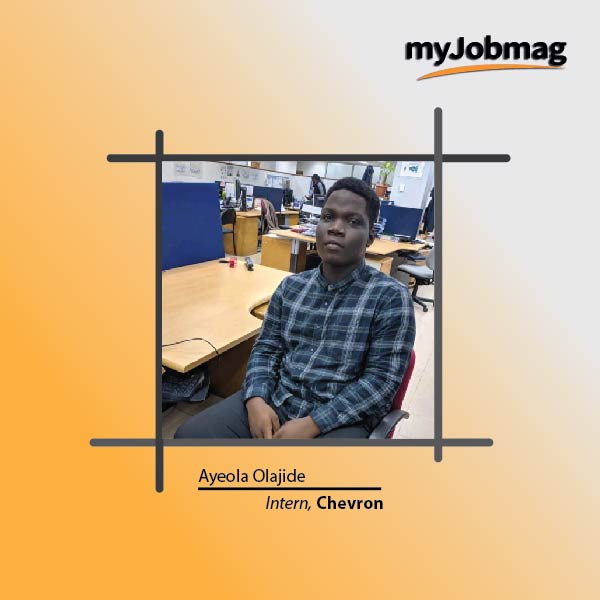 I got in through a rigorous selection process. Though the test which was largely based on your resume

Shortlisted* 4 months

It has equipped me with skills to know what career choice I really want

Social Media and Referees

Search smartly and apply way before time
Bolatito Priscilla Orunmuyiwa
Intern, Edu and Travels Limited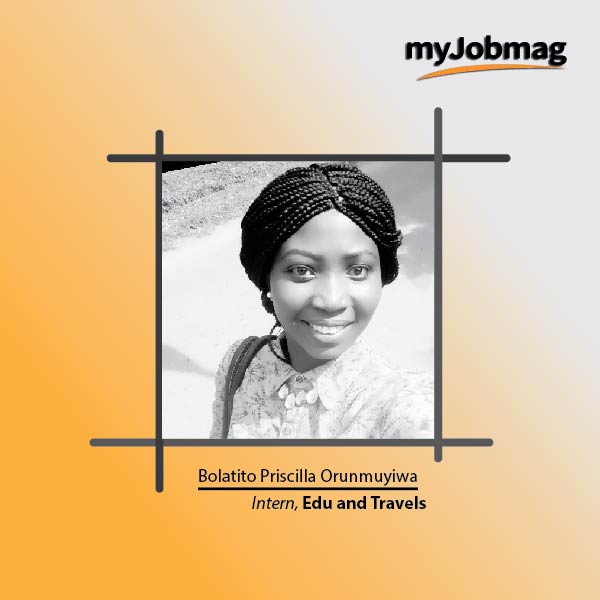 I got my internship through my LinkedIn post during ASSU strike

It took me about 2weeks to get an internship

It has expand my horizon and made me to have an on-the-job practical experience

There are many channels to getting internship, just stay connected online, and know what you want

Don't search for job, equip yourself with the skills in demand, and be ready to serve with humility, honesty and dedication. You will receive referrals like something else.
Leesi Stephanie Vilawa
Intern, Julius Berger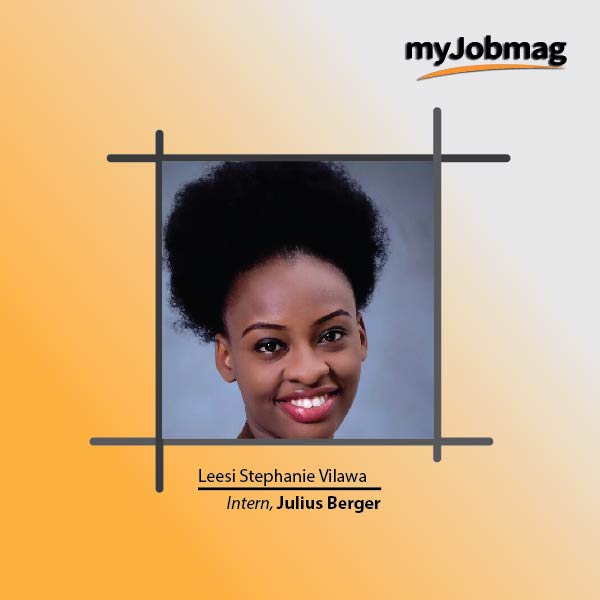 Just as every other day, I go to various firms with necessary documents looking to secure an internship position. Julius Berger was in my list and I was luckily called to start up.

3 months.

I'm most excited because I'm learning a lot. It's simply bridging the gap between theoretical knowledge and practical applications. My only challenge is we basically are not into designing and producing Automotive Systems in Nigeria. That's my passion however, the knowledge gained in maintenance of such systems is excellent

I'm not limited! The use of internet and physical search for me is perfect

On an average scale getting a job is difficult and can be very challenging. Look for something that makes you outstanding from the regular applicants. That can increase your chances. Again not everyone will get a job. Entrepreneurship will help.
Afeez Rasheed
Intern, Guinness Nigeria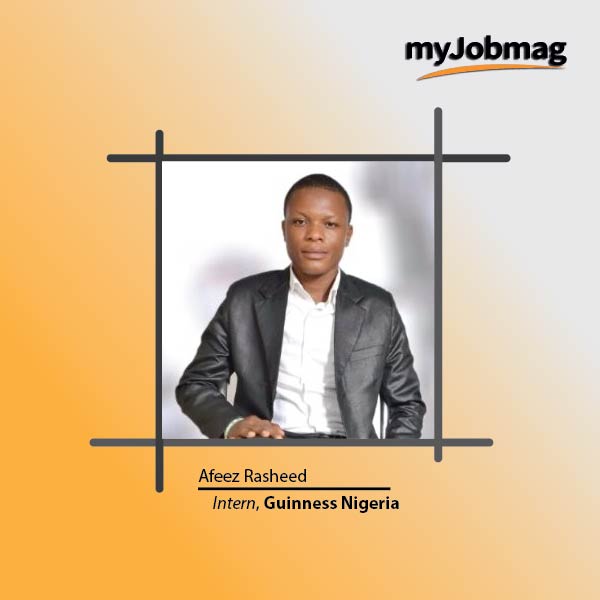 I got the internship by applying for jobs, I was always on the lookout for graduate trainee and graduate internship recruitment. I applied for any kind of job and I ensured that I studied GMAT and SHL structured practice questions for the tests and I also read a lot about interviews online.

It took me applications, tests and interview to secure it.

The internship program has given general elemental overview of how formal organizations are structured. It helps me to learn about sales and operational channels of distribution involved in depleting products from manufacturer to the consumers. It has given me insight on what it takes to be an exceptional sales person and entrepreneur.

I think all channels are reliable depending on your area of interest. However, seek for graduate trainee or internship programs in world class companies in order to learn and gain experience.

My advice to young Nigerian graduate is that they should be ready to milk every opportunity out there because they all have the potential to hit the ground running. Lastly, they should shun the wrong notion that World class companies don't employ on merit. If any of those companies were built on nepotism and favoritism, they won't be world class.
Somtochukwu Ezeani
Intern, Oando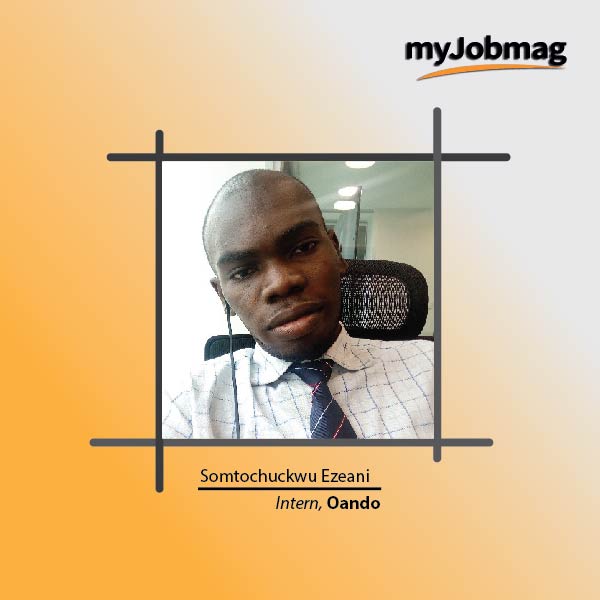 I entered for a competition which I won.

Not long because I had emails and phone calls from firms especially start-ups requesting me to intern with them.

I have on-the-job experience and it is easier for me to get integrated into any system.

I rely mostly on friends, referrals and word of mouth. I also use social media. There are reliable sources on social media.

Social media is your friend. Make the best use of it!
Caleb Baale
Marketing Intern, Unilever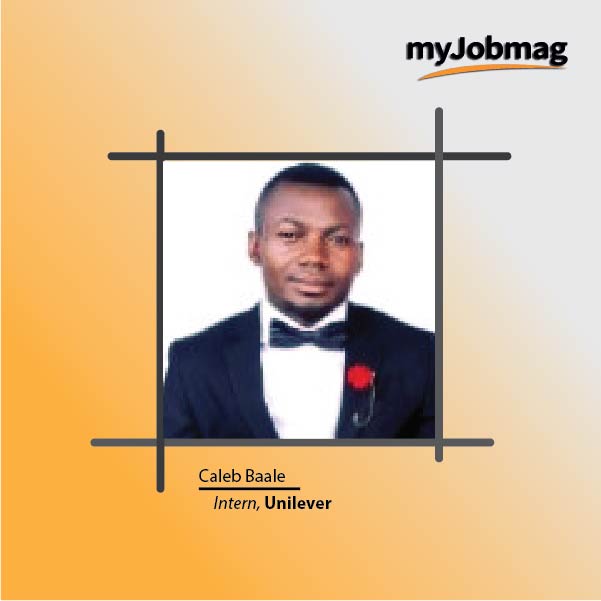 I was posted directly from NYSC to serve in Unilever.

I got the internship after two months after series of interview with the Hiring managers.

Taking an internship position has helped my career a great deal, I studied Food science and technology, but found myself in marketing. Trust me, I am in love with brand building and looking forward to developing my career in that space.

I think referral and LinkedIn are the most effective job-search channels.

What is your advice to young Nigerians that are searching for jobs? There are jobs everywhere, they should build up their skills to meet the requirement for the job before applying.
Tessy Olley
Intern, iRecruiters Africa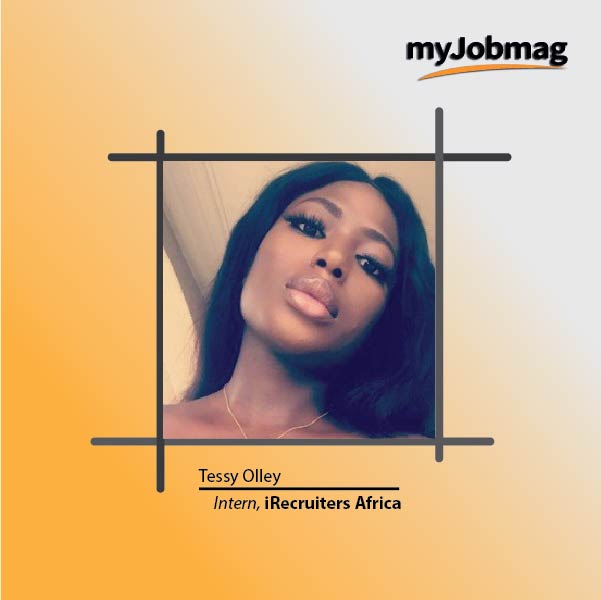 I got my internship position from a friend who referred me

it took months of research and interviews to finally get one

I have my own business now, but the internship position has helped In the organization of my business

I would say social media is the fastest way

be patient and you would get what you need
Chiamaka Ibeawuchi
Management Consulting Intern, KPMG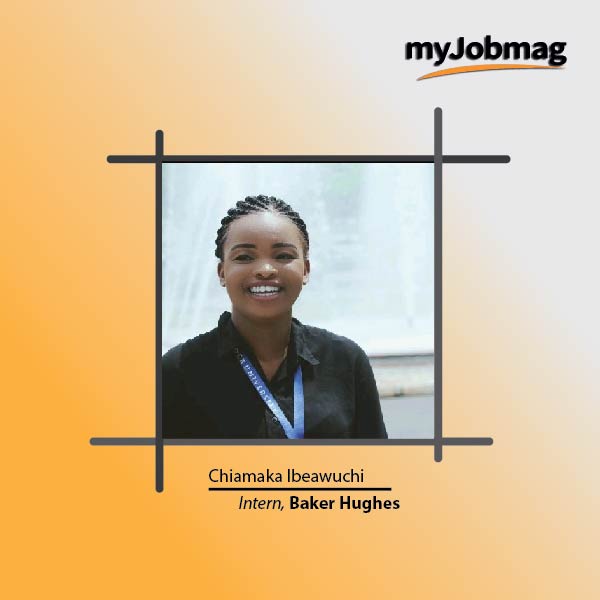 I got my job by applying online on a finance society group chat.

4 months. When I applied in January, I started working in June

Taking up an internship position has helped me see the practical aspect of consulting which I really wanted to know.

There a different effective channels that you can get an internship position.

Whether it is through a friend or a group chat, just make sure you have the right sources of information.
Segun Adomokhai
Research Intern, SHELL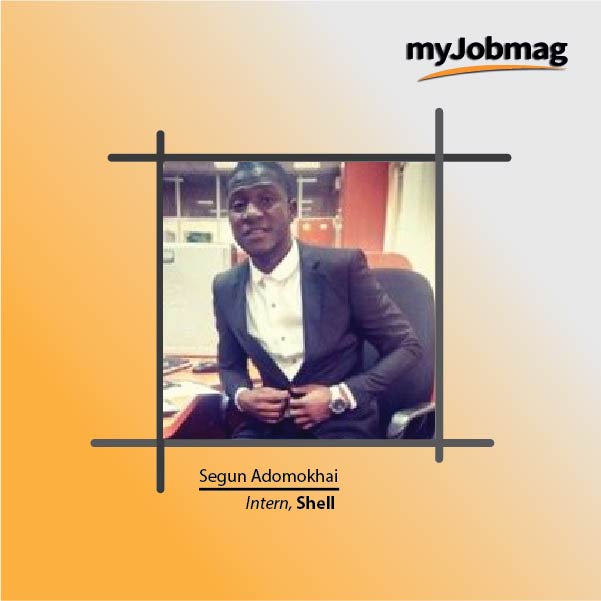 I enrolled with SHELL center for Excellence Program Uniben Chapter, and at the end of the program, I was given a slot to intern with SHELL.

It took about six months

The internship has helped me gain hands-on experience and how to position myself for my future career.

Networking is a very effective means of job search, social media platforms too are really effective, you can also join useful WhatsApp groups.

I would advise young Nigerians looking forward to getting a good internship placement to work on themselves, acquires soft skills, build worthy relationships, build hard and soft skills, get good certification and technical competence that will give you an edge over other candidates. Lastly, graduating with good grades gives you an edge over millions of candidates out there.
Ikenna Unadike
Research Intern, Shell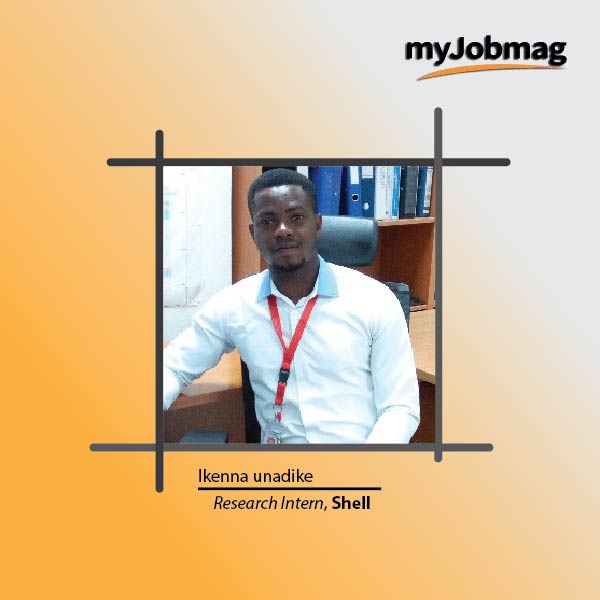 I got my internship by applying by to an internship advert

 I think the answer is subjective, depending on your school calendar, choice of placement, and information. For me, not too long.

Application of knowledge and more knowledge. It gave me an avenue to put what I learnt to practice and acquire more knowledge.

The internet (group chats, LinkedIn, Facebook)

while searching, improve on yourself
34. Morankinyo Odeniyi
Research Intern, Nestle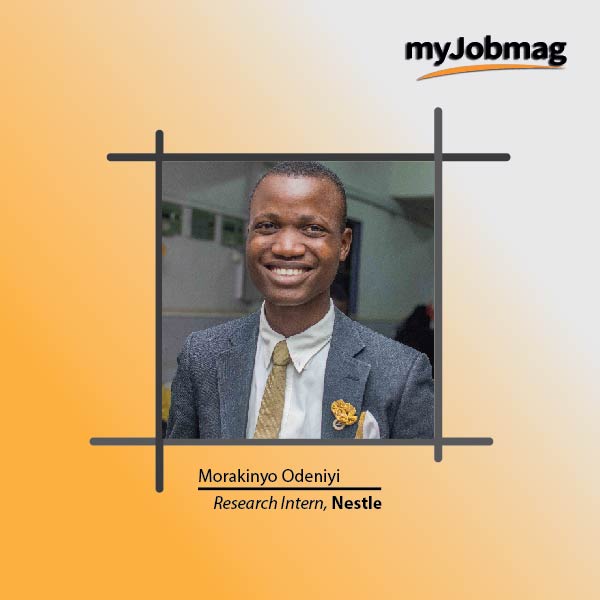 I would say, it was just God who helped me. I just wanted to have my internship there and then God sent men to help me and also helped me through the tests

As soon as I made up my mind on a position

It has really opened my eyes to real life practical applications in my field and has also provided me with the privilege to work with professionals who added a lot of practical knowledge to me hence making me experienced to an extent.

The Mind channel, the basic challenge is getting a placement is knowing where and being ready to do what is needed to get there. But LinkedIn is a very good channel

It's very simple, whatever your hand finds doing, give it all you've got irrespective of the pay. Don't be money oriented rather be solution oriented and of course when you provide solution, money follows
Onome Urenna Lemeke
        Supply Process Improvement Intern, Guinness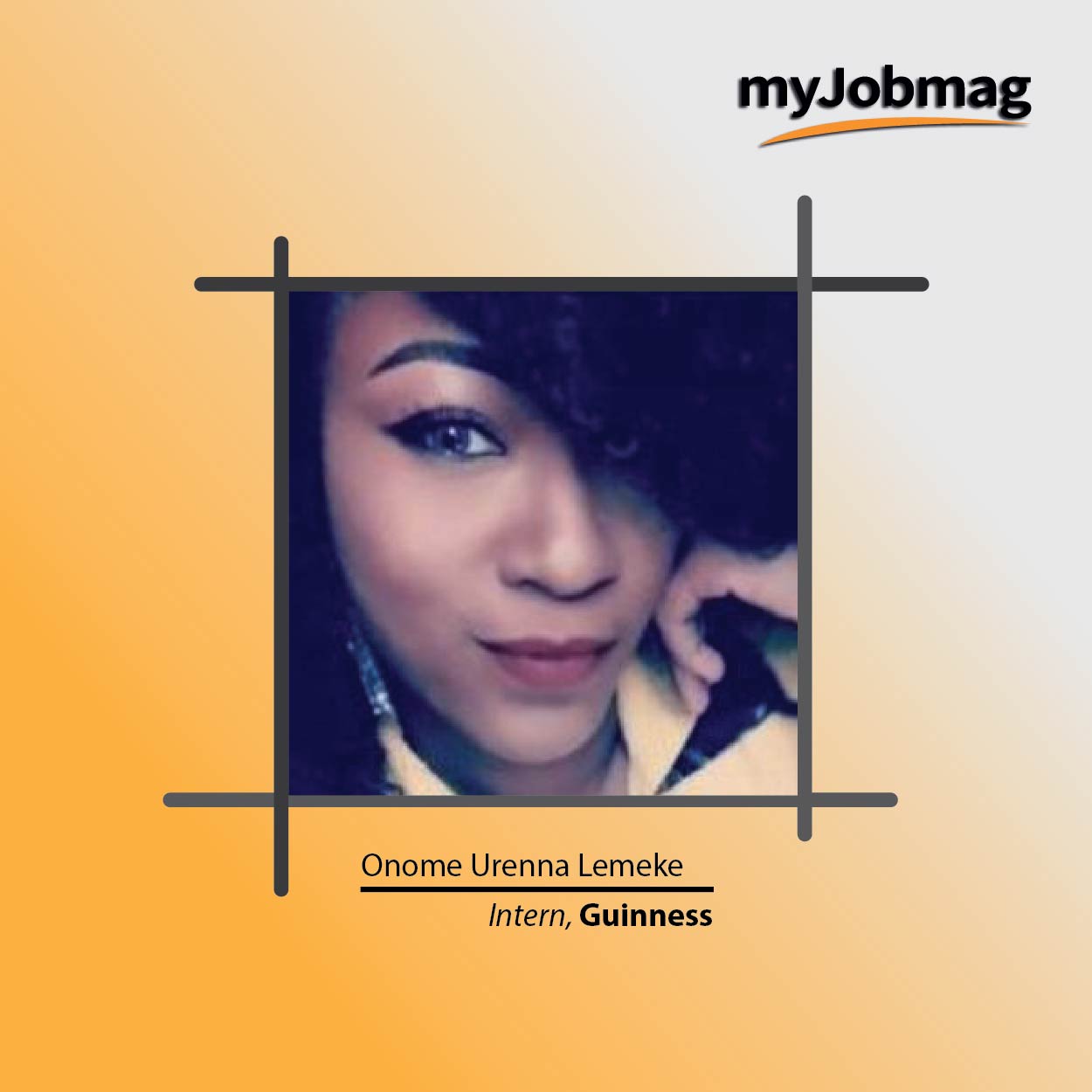 It took a few weeks of search on the internet and weeks of asking questions till I saw a link, I probably didn't think would work on LinkedIn. Tried it (there's no harm in trying), applied just few days to the deadline and I was mailed for an online test which I think I passed because I was mailed again for an online interview and I got the position.

It took me about 2months (maybe not up to).

It opened my eyes to new things outside of the box I was in and it broadened my horizon. It gave me a whole new perspective to what I studied and taught me not to restrict myself to a particular area of work (there's always more if you're willing to take it on).

The internet, LinkedIn in particular (take it or take it).

Start your search early, learn about the company you're applying to, be prepared and be confident (not proud, CONFIDENT) .Your job search should begin during your NYSC and please look out for positions tagged "graduate management trainee" as it is the best way to get permanently employed in a company.
Tolu Oyefeso
       Intern, KPMG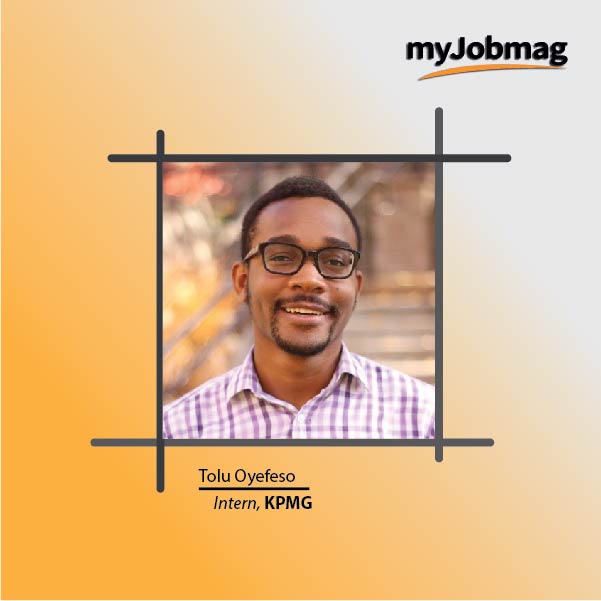 I applied for it online

A few months.

I would say it has prepared me for full-time employment by showing me the required work standard. It has also helped me narrow down my career prospects, taught me about the type of work I want to be doing, and the type of organization I want to work for.

LinkedIn is very good. Job posting sites, friends & family are also pretty good. When searching, I try not to limit myself at all, you never know where the opportunity might come from.

Cast your net wide, use all the resources you have available to you and don't get discouraged if you get rejected. It is a numbers game.
Alabi Ebunoluwa
Application Developer Intern, Chevron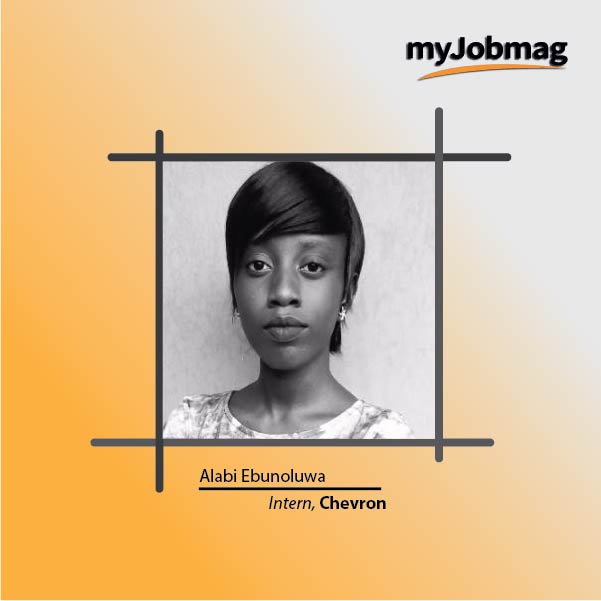 I was in my fourth year of studying an engineering course, Electrical and Electronic engineering to be precise, hence we were required to complete a 6 month internship as part of our course fulfillment. It was application season, and to a large extent one would normally hear about open application portals especially for popular companies through platforms like Whatsapp, and for those subscribed to sites like Opportunity Desk or Opportunity for Africans, you will get to hear about these openings. The narrative isn't different for me, I already knew certain companies I wanted to apply to and some that were just being talked about. I applied to as many internship positions as I could, some required in-person interviews, interviews over phone calls and some also had the technical assessment phase. For the company I eventually worked at, they had just the application phase and technical assessment phase, after which successful applicants were extended an offer.

I started applying during my 300 Level internship, which was about 8 months before I actually needed to start my 400 Level internship as stipulated by my school's calendar. I got my offer the week I was meant to start by my school's calendar, and resumed officially about a month later. This was after medical screening and a number of unforeseen events.

I believe my internship has to a large extent skyrocketed my market value in the job market. Besides gaining real hands-on experience in an area that interested me, I also had the privilege to work alongside industry professionals, build my inter-personal relationships and communication skills, worked with different teams and also got assigned my own project to work on. One of the biggest take away for me was getting insight into how a large enterprise really works, how to stay ahead of your game in a large corporate environment and levelling up on certain skill. During my internship, I had mentors, who even after leaving I can still consult on issues concerning my career. That to me is invaluable.

Nothing beats your own network, discuss with your friends and speak to mentors that can guide you. Besides that Opportunity Desk seems to capture a lot of popular opportunities. However, for local opportunities specific to your career path, Whatsapp BCs actually do come in handy sometimes. For anyone actively looking, the point here is to have your ears on the ground

Your major goal should be to know your own goals, really, sit and ask yourself what you want out of the internship for yourself, how you want it to affect your career, what side lessons you want to learn, if Plan A doesn't work what's Plan B, how much growth you want to experience on a skill etc. I think a lot of people make the mistake of going in with undefined expectations or no expectations at all and a rigid mindset. Keep an open mind, apply to as many as you can, rack up interview experience and aptitude test practice, know exactly what you want and you should be fine.
I am sure that hearing from interns themselves has given you a wealth of knowledge when it comes to job-searching. As good as it is to hear from people that have experienced what you are going through now,  I feel striking a fair balance from an opposite end will help broaden your horizon when it comes to job-hunting and getting hired fast. So I decided to also have a discussion with HR Managers.
HR Managers and Employers Talk about attributes They Look Out for When They Hire Interns
To help you understand the core when it comes to internship hiring process, we interviewed employers and Human resources Managers and asked them what they look out for when they want to hire an intern. Take a look at their responses:
Anthonia Esiro ; Human Resources Executive, MyJobMag
"Whenever I want to hire an intern, I look out for relevant skills, Knowledge and Interest"
Olaseun Lawal (Head, Service and Compliance at Lekki Free Zone Development Company)
"When employers want to employ interns, they often look out for your willingness to work"
Chidi Adiele (Personnel Manager at OILTEST GROUP)
"When we want to hire interns, we look out for candidates that are trainable and people that can fit into the success plan of the organization in the near future.
Hope you were able to pick out recurring job-search facts hearing from interns, Human Resources Managers and employers?
Well for me I picked up lots of job-search realities listening to them, but I will like to talk about two key job search realities that I discovered;
The Power of Networking
From different research and discoveries in job-search techniques, networking has proven to be one of the most effective job-search technique in the 21st century. From the interns' responses about how to get an amazing internship, I noticed that over 60% of interns got their jobs through networking.
Looking at this survey, it is quite evident that networking is one of the most effective tools that can help you land an amazing internship opportunity in Nigeria. So if you have not started networking, learn how to network here as soon as you want to land the internship opportunity of your dreams.
Self-development
Listening to the different responses, one amazing fact that I can pick out is this; if you want to be a part of a made company, you should be a made person. It means that if you are looking forward to getting an internship opportunity in a 'big company', you should be dedicated to making yourself a 'big candidate'.
The process of learning is an important process for anyone that wants to build a career by taking up internship opportunities. Employers and HR Managers emphasized a person's ability to learn as a major requirement for an internship placement.
Looking at the competition in the job market, it feels almost impossible to get an amazing internship placement. Hearing from the mouths of interns themselves, I am sure you are convinced that it is possible to land your dream internship opportunity equipping yourself with the right knowledge and information.
To land an amazing internship placement, you have to be open to opportunities. See amazing internship opportunities here.
I shared the job-search realities that I discovered from interns and HR Managers, don't forget to share yours with us in the comment box below.