As one of the fastest growing job publishing platforms in Nigeria, MyJobMag assists job seekers by providing latest verified job adverts and career information from employers and recruiters in all Nigerian states. As a recruitment agency in Nigeria, we also offer recruitment services to business.
With its unique way of providing free job services to job seekers in all Nigerian states, it is still a pity that many job seekers get to miss this awesome opportunity provided MyJobMag because they don't know how to use Myjobmag.com and take advantage of the life time opportunity of landing your dream job and getting the best talents. You may want to read this article on what is recruitment if you are just getting started with hiring for your business.
MyJobMag offers a range of services to make the job search easier, but you cannot utilize this opportunity if you cannot use the site. Using MyJobMag is simple and easy, you only need to take these few steps:
Search
Search for Myjobmag.com on any search engine or simply follow the link https://www.myjobmag.com/  and you will automatically be taken to this page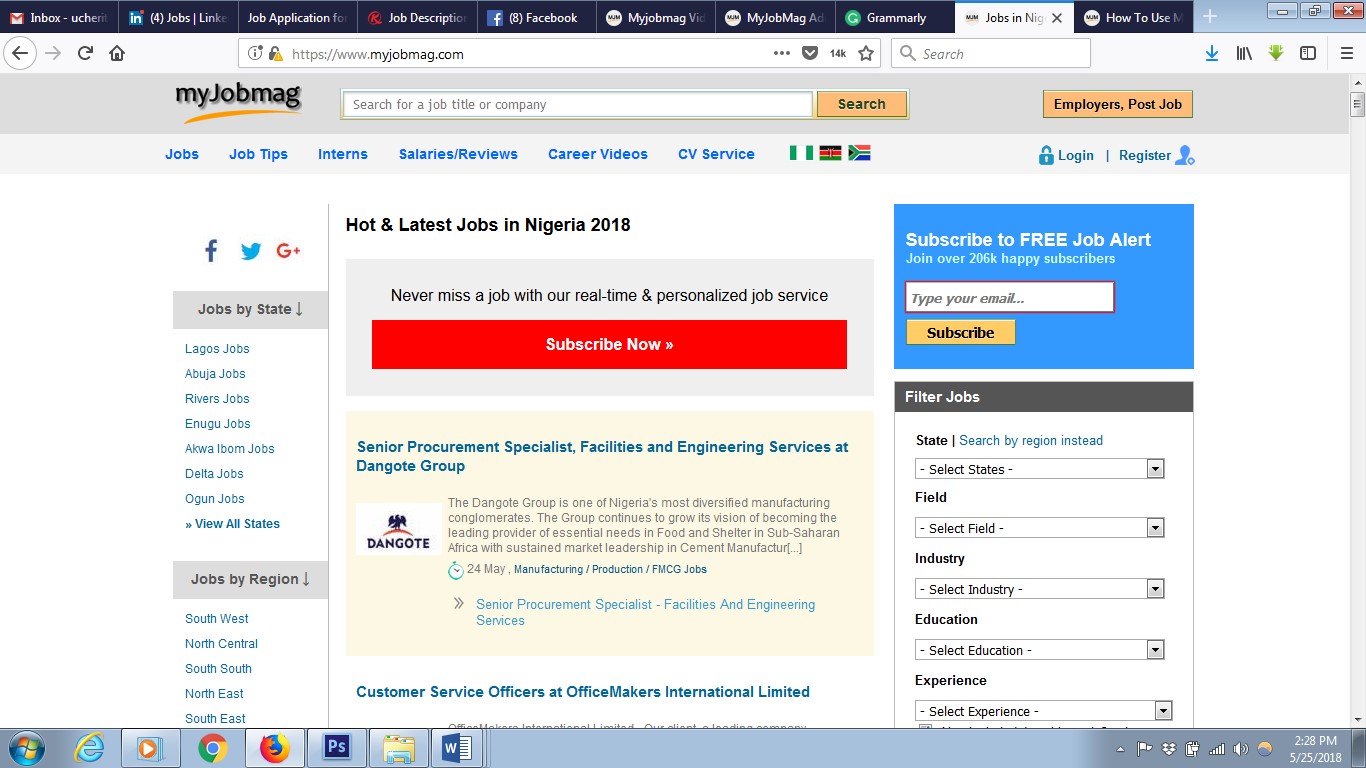 Subscribe
Do you know MyJobMag alerts job seekers on latest verified jobs every day?
This means that you can get access to hottest jobs available without having to surf the internet to search for jobs. One of the most interesting and awesome services is the delivery of free but genuine job placement alerts to your emails.
You are allowed to subscribe for regular job placements alerts via e-mail, Tweets and Facebook posts. Harnessing the power of social and online media to our advantage is the driving force behind our popularity in the recruitment market.

To enjoy this special feature, all you need do is go to the top right section on the homepage of the website and provide us with your mail address in the space provided and click on subscribe.

You can also like our Facebook page MyJobMag to view our regular posts on Jobs, Tips and Info, Career Advice and so much more
or simply follow us on twitter @MyJobMag as well as subscribe for our RSS feeds.
To join thousands of happy users, all you need to do is to subscribe. To subscribe, all you need to do is visit the page, then you would get to see an image prompting you subscribe. Click the subscribe button and follow the prompt.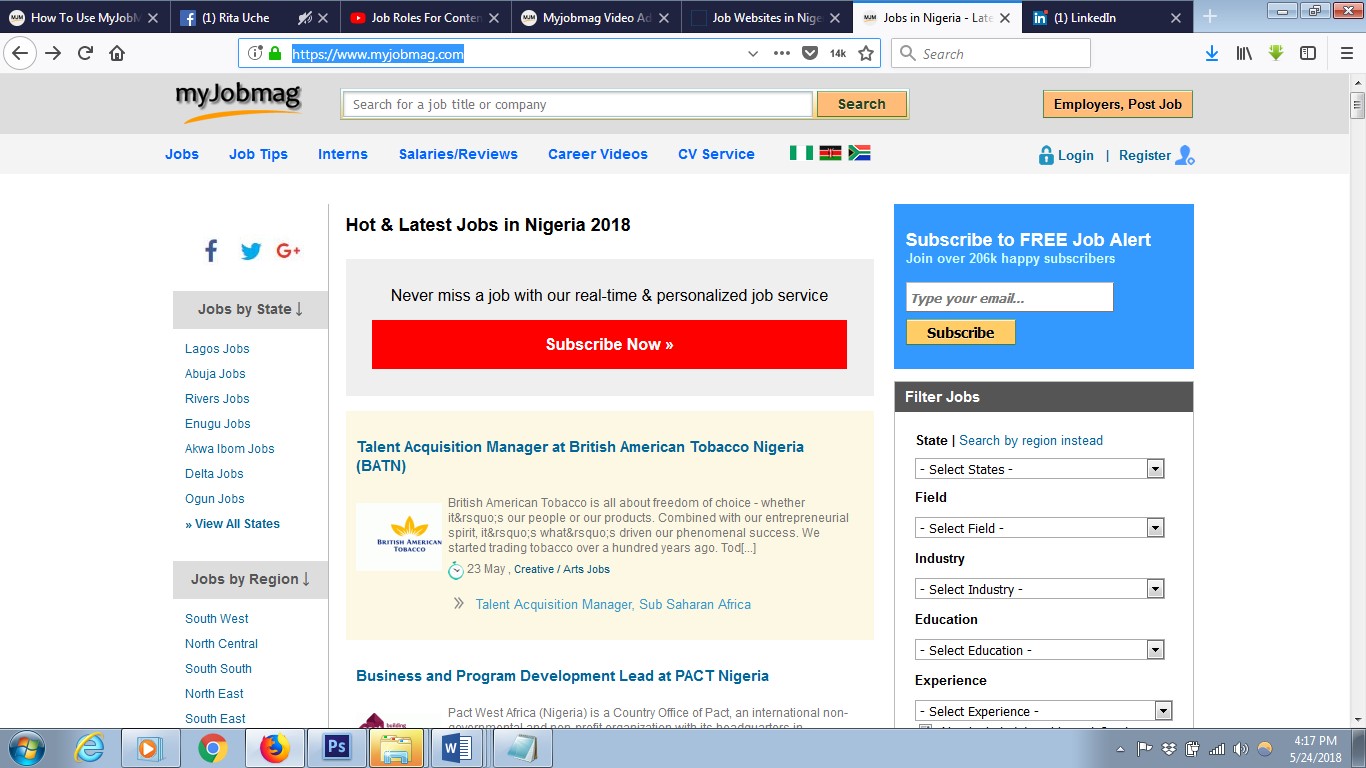 Select Preference
To serve job seekers better, we allow job seekers to select their preferences. That means job seekers can view jobs in any industry of their choice like:
Agriculture, Banking/Finance, Consultancy, Education, Food Services, Government, Hospitality, Insurance, Logistics/Transportation, Media, Oil/Gas, Real Estate, Security, Aviation, Building/Construction, Creative, Engineering, Health Care, ICT, Legal, FMCG, NGO, Pharmaceutical, Sales/Marketing, Travel/Tours.
You can also view jobs in different fields such as:
Accounting/Auditing, Agriculture, Aviation, Building/Construction, Customer Care, Engineering, Graduate/Internship, Human Resources, Insurance, Logistics, Media, Oil/Gas, Sales/Marketing, Project Management, Transportation/Driving, Administration, Arts/Craft, Banking, Catering, Education, Hospitality, ICT, Legal, Manufacturing, Medical, NGO, Pharmaceutical, Real Estate, Security.
Under the date category job listing, we have today, this week, this month and then a section which allows you to search for jobs narrowing down to specific dates as well as a tab on the website which allows for users to view and apply for latest jobs.
Job Tips
Asides providing job seekers with up-to-date job information, we furnish you with great articles and information on career and scholarships. The job tips categories include:
Getting up to date information on Job Tips from MyJobMag is simple and easy. Take your cursor to the top left corner of the home page and click on the job tip button to view great articles. When you click on the job tip button you will be automatically taken to another page to access great articles and information.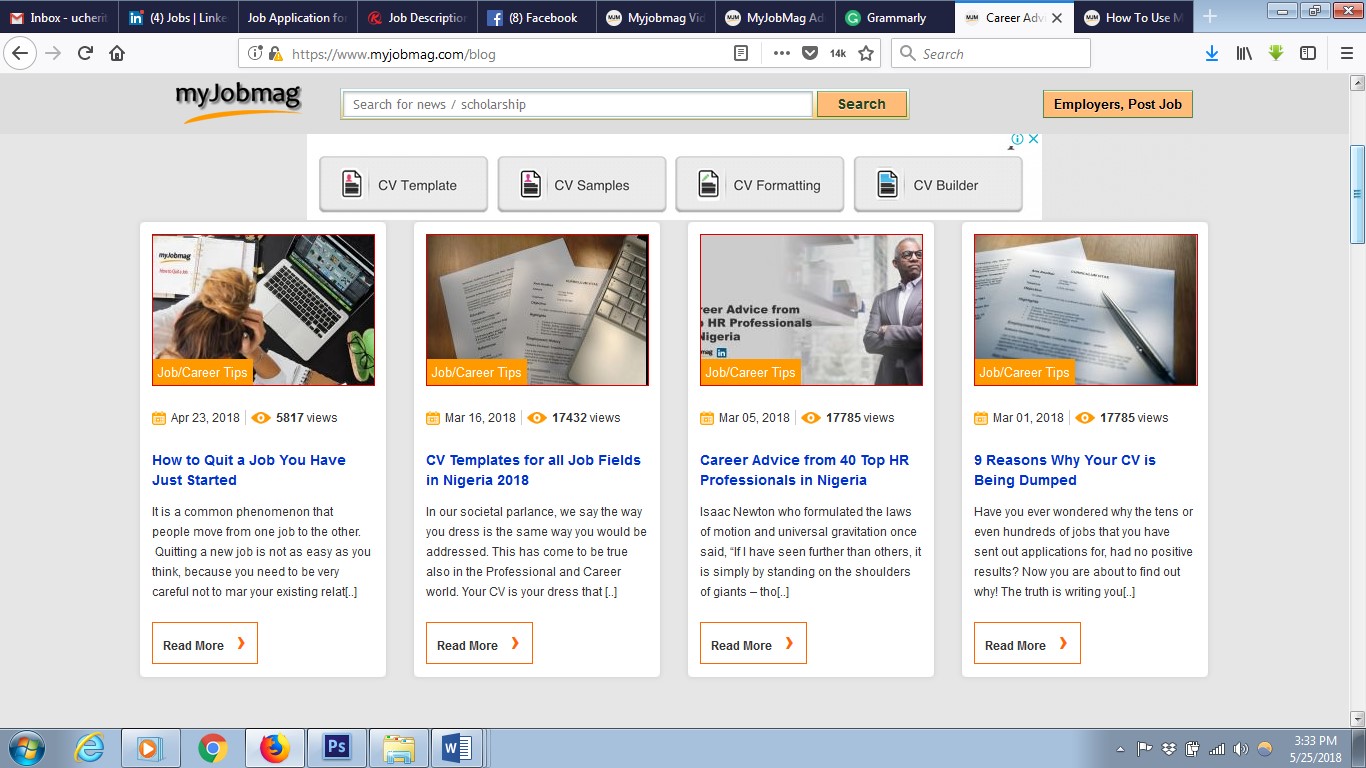 Interns
MyJobMag offers internship opportunities to potential employees (interns), to work at an organization for a fixed, limited period of time. Interns are usually mostly undergraduates or fresh graduates, and most internships last for any length of time between one week and 12 months. To access this function is simple and easy, all you need to do is to click the interns button at the top left corner of the home page, and you will be automatically taken to the interns page to view internship openings.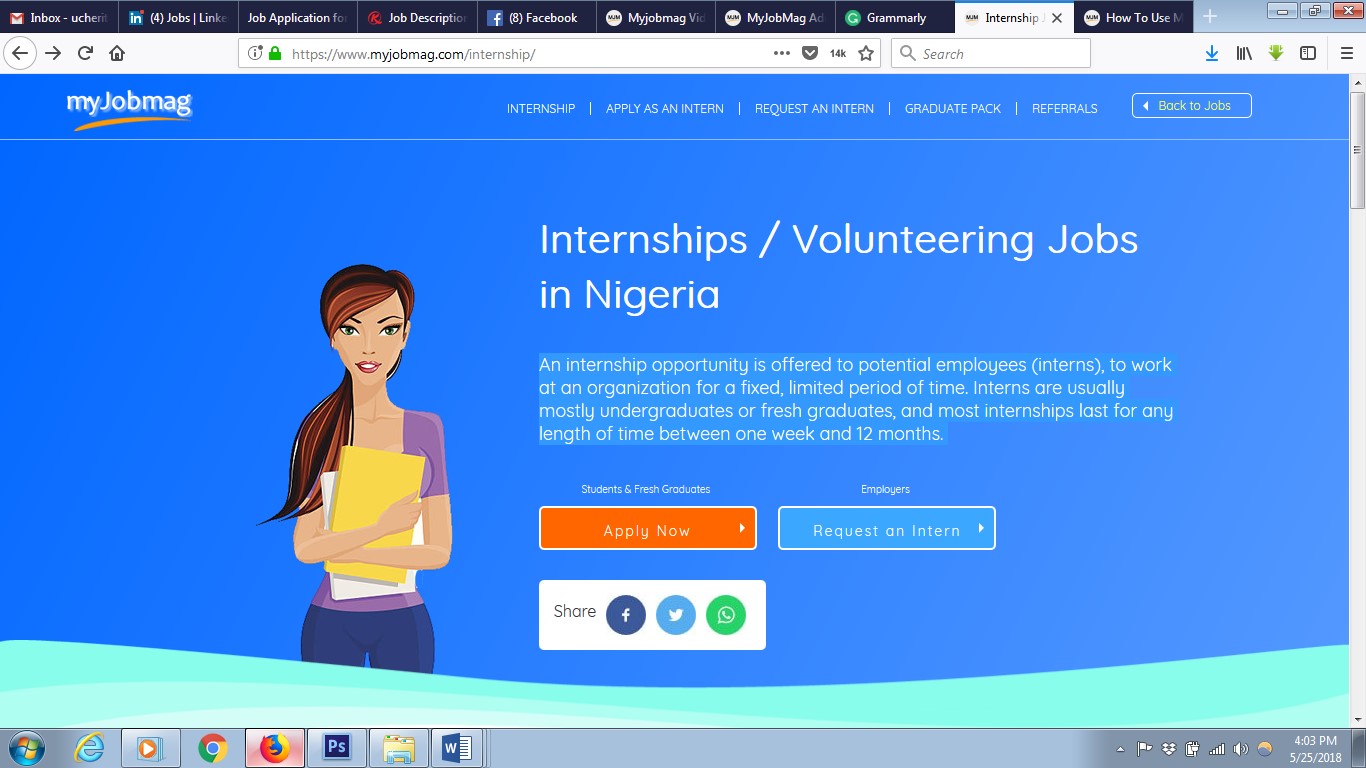 CV Service
We understand that your CV is your no.1 marketing tool that is why we have decided to help job seekers market themselves better. At MyJobMag, we turn your CV to a professional story that will get you noticed by employers. We help you take your job search to the next level with our professional CV service. To get a professional CV service, simply click on the CV service button and you will be taken to another page. Follow the instructions and get yourself a professional CV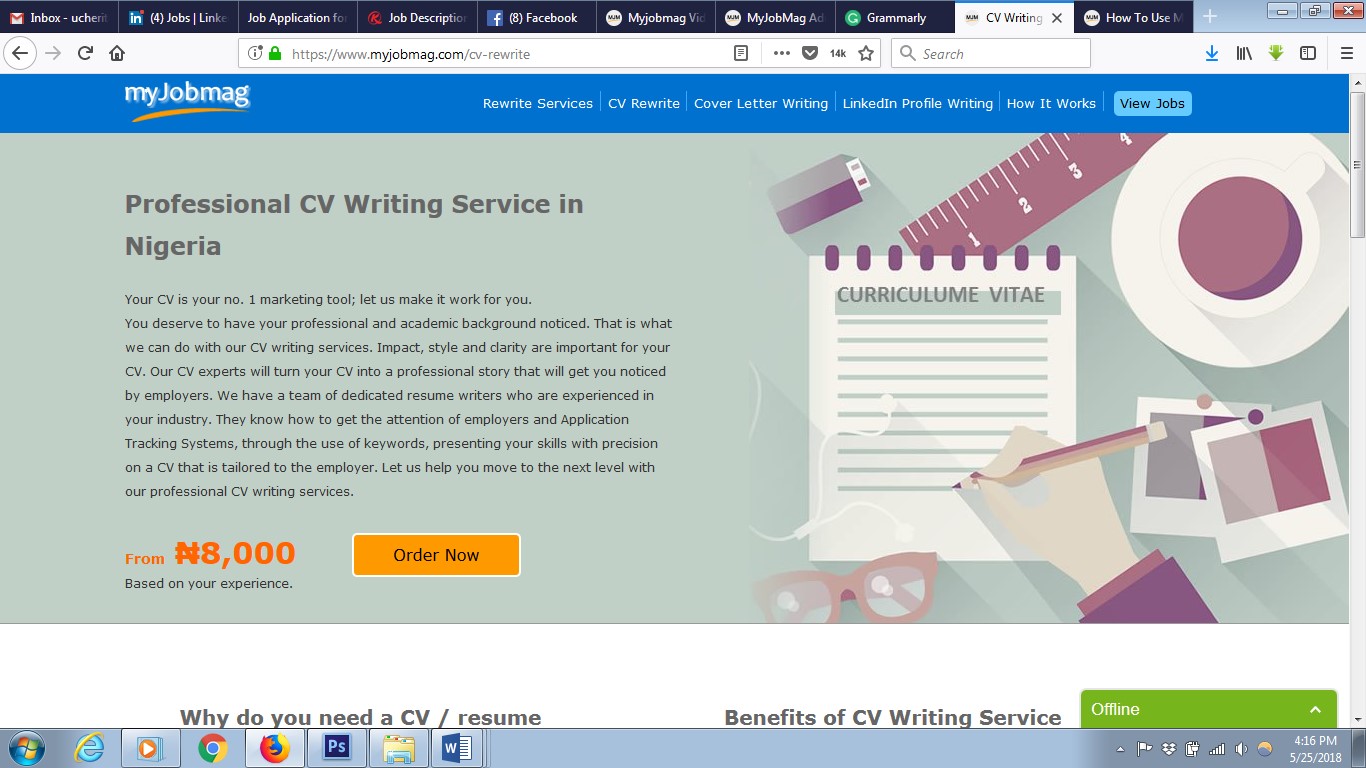 Salaries/Reviews
At MyJobMag we help job seekers and employees find out salaries and reviews of companies they wish to work for. With this tool, employees can find their worth by searching salaries of other workers in the same job field. To use this tool, all you need to do is to simply click on the salaries/reviews button and follow the prompt.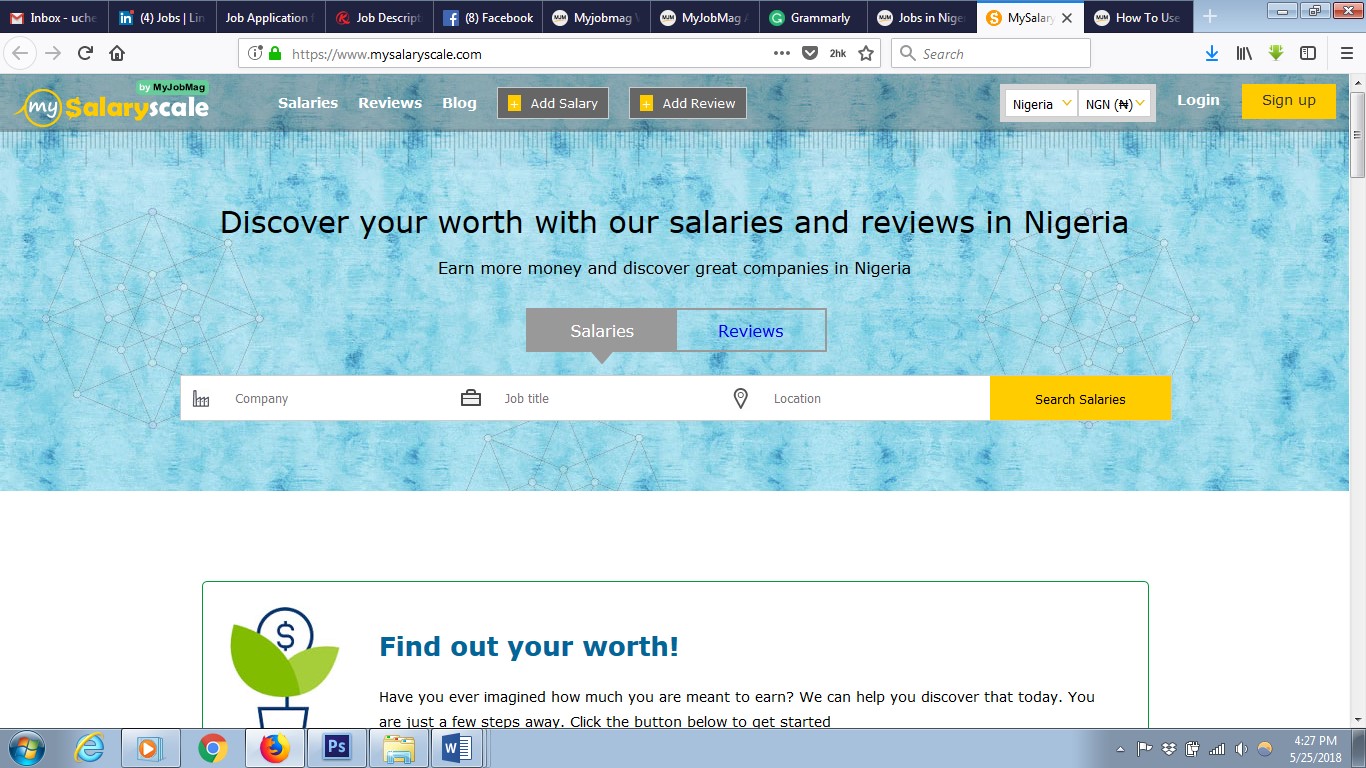 Employers
Interestingly, MyJobMag makes available an opportunity for employers to post job placements free of charge. With thousands of job seekers visiting our website daily and 95,289 job seekers (as at August 19, 2013) subscribed to our alerts, advertising your job vacancies on MyJobMag is definitely a good deal. Posting your job vacancies on MyJobMag.com effectively targets job seekers and comes at no cost. You can post jobs for free or use our featured job posting services to get more value for your job vacancies.
As if that isn't enough, MyJobMag leaves open an opportunity for intending and potential employers to cede their recruitment challenges to us as we have capable, competent and committed hands that will take care of their recruitment challenges in the following areas: Software Developers, Database Administrators, Web Developers, Networking Experts, Graphics Designers, Security Experts. 
Website/Blog Owners
Website and blog owners can easily display jobs on their websites in their choice categories and industries using our fully customizable job widget.
You can customize virtually all aspects of our widget including:
Industries to display

Fields to display

Number of jobs to display

Title of Widget

Width and Height of widget

Font type, size and color

Border width and height

Background color

Link color

You can choose or not to display our logo

And you can easily choose to animate job feeds
As the leading job website in Nigeria, MyJobMag is much more than just a job listing platform. We are a technology recruitment company connecting great talents with the right companies.
Want to get a job fast? Signup and complete your profile on MyJobMag. Employers will find you 4x faster with a complete profile. You can download your completed profile anytime
Signup Now